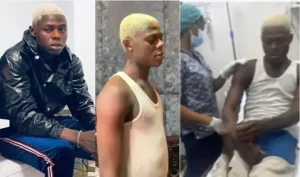 The Lagos State Police Command has identified Ms. Feyisayo Ogedengbe, an auxiliarAuxiliaryas the prime suspect in Mohbad's death while Naira Marley, Sam Larry, Primeboy, and one other have also been named as suspects.
MohBad, whose real name is Ilerioluwa Aloba, passed away on September 12 at the age of 27. His death has since become a subject of controversy as old videos of the Afrobeats singer alleging bullying and physical assault resurfaced.
Commissioner of Police, Idowu Owohunwa, stated in a press briefing on Friday that "five suspects have so far been identified, arrested, detained, and interrogated on their alleged roles in the sequence of events that led to the death of the singer."
Ogedengbe was identified as the individual who administered "multiple and highly potent" injections to MohBad. The injections consisted of Tetanus Toxoid, paracetamol, and Cetrazone—an antibiotic—and were administered at Mohbad's residence on September 12. These medications triggered an immediate reaction, including vomiting, goosebumps, and convulsion.
Owohunwa revealed that Ogedengbe was unqualified to perform the role of a home nurse and did so in a non-clinical environment and in a professionally negligent manner.
Another suspect is Ibrahim Oluwatosin Owodunni, aka Primeboy, described as a childhood friend of Mohbad. Owohunwa disclosed that PrimeBoy attended a show with MohBad on September 10, which culminated in a physical fight between the two, resulting in the late singer's injury. "The management of the injury subsequently resulted in his death," Owohunwa said.
Sam Larry, whose real name is Samson Balogun, was arrested and remains in detention for being complicit in the Afrobeats star's death and in relation to viral videos by the deceased about bullying and assault, the police commissioner said.
Similarly, Abdul-Aziz Fashola, aka Naira Marley, was also arrested and is still in detention over similar allegations, Owohunwa also noted. The exhumation of MohBad's remains, autopsy, and toxicology test were undertaken on September 21, and results of the autopsy and toxicology are currently awaited.